Top1
How to customize a lapal pin?
by Jason Day on May 25, 2022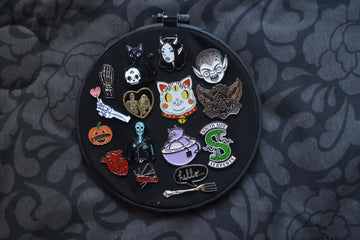 How to customize a lapel pin? It's very easy to customize a lapel pin with Topone, just follow the following steps:
1/ First of all, we will have to know the lapel pin size we want.
On the customization page, Just input the width and height you want:
2/ Secondly, we will have to know the lapel pins styles. Select the type you want, if you do not know there difference then you can just click the most common style "Soft Enamel" then we will get back to you to confirm.
3/ Thirdly, We will want to know the material color/finish. You can check any color you want. If you need the special treament like two colors finish then you will have to drop us an email at top1supplied@gmail.com then we will quote you the price accordingly.
4/. Then, You will select the number of colors of your design. As you know, the more colors the more cost so the price will be a little higher. If you had ever see the procedure of making a pin then you will know the reason as well.
5/. Backing Attachment Selection. You will have to select the different attachment backing styles for your pins, no better or bad but your needs is important. Some of them will not be charged (the most common attachments) but some of them will be charged separately.
6/. If you need other options like glitter, debossed letters or glow in the dark enamel something special not the most common things. Then  you will select the options you want to use on your lapel pins. (It's optional not a must).
7/. The last step is the packing. You can select one of packing material or two kinds of them like pack a pin into an opp bag then into a Velvet Case or firstly pack a pin with a backcard then pack them into a velvet case. So this step is multi selection available.
Then you can upload your design and our designer will create pins mockup for your approval, then make the samples and if you approved the samples by image, we will arrange the bulk then ship out to you accordingly to your ship-to address.
You can follow this video to customize your lapel pins as well.
For Hard Enamel pins making, you can check this video:
 If you want to know the difference between soft enamel and hard enamel then you can check this video: